June 2, 2023
Posted by:

David Spencer

Category:

Environment
Barndoor Strategy client Frugalpac has been invited by the UK Government to send its paper Frugal Bottles to trade chiefs in Australia and New Zealand to mark the Free Trade Agreements with the countries coming into force.
UK businesses will be able to sell to Australia and New Zealand more easily as the UK's trade deals with the countries go live.
International Trade Minister Nigel Huddleston toured DHL's Southern Distribution Centre to see off two handpicked consignments of UK goods from the UK's Department for Business and Trade, some of the first to be sent under the new deals.
These included Silent Pool's Green Man Vodka and Gin and Greenall's Greener Gin – all in paper Frugal Bottles made in Ipswich.
Other British goods, including Beano comics signed by Beano editor John Anderson, Welsh Penderyn whisky, Brighton Gin, Cambridge Satchel Company bags and Fever-Tree tonics, were also among the items that were sent.
The Frugal Bottle is made from 94% recycled paperboard with a food grade pouch to hold the liquid, is five times lighter than a glass bottle and crucially uses six times less carbon and energy to produce and dispose.
Under the deals' beneficial terms, tariffs on all UK goods exports to Australia and New Zealand will be removed, unprecedented access to these markets for services unlocked, and red tape slashed for digital trade and work visas.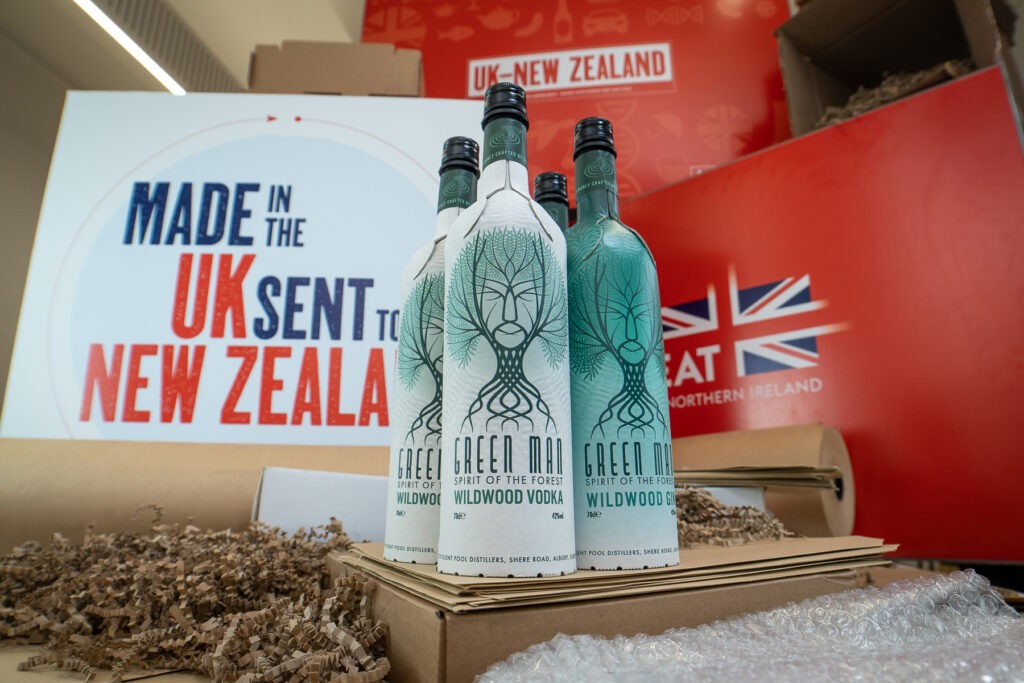 Frugalpac, based in Ipswich, launched the Frugal Bottle in June 2020 – the world's first and only commercially available paper bottle for wines, spirits and olive oils– with a red wine called 3Q from Italy's Cantina Goccia.
Now more than 30 different drinks producers from around the world have launched 65 different SKUs of wines, spirits and olive oils in the Frugal Bottle. They are available in 22 countries including Japan, North America, the UK, across Europe, Scandinavia, Australia, and South Africa.
Frugalpac has seen such strong sales and interest from drinks producers around the world that it now has enquires to make more than 120m Frugal Bottles and has opened a new 11,000 square foot Frugal Bottle factory in Ipswich to meet the global demand and sold its first Frugal Bottle Assembly Machine to KinsBrae Packaging in Canada.